Two years ago, on May 15, I supported an incredible family-centered Cesarean birth at the University of New Mexico hospital here in Albuquerque. I'm sharing the story here from my point of view, with permission from my client, M.
M is, to put it simply, a tour de force. After three previous surgical births, she knew what was normal in the OR—and strived for a different experience as she welcomed her fourth and last baby. M wanted a family-centered Cesarean birth. She carefully planned and prepared for her birth her whole pregnancy, identifying a few elements that were super important to her.
Specifically, M wanted the surgical drape dropped (so she could watch her baby being born), delayed cord clamping, and the ability to pull her baby to her chest herself for skin-to-skin. She also wanted me to be in the OR (at that time, doulas weren't routinely allowed in the OR) and for her husband to accompany her in for the epidural before the birth (normally, the gestational parent goes in alone for the epidural and the partner comes in as the surgery is beginning). These requests are common for family-centered Cesarean births (sometimes called "gentle" Cesareans), most especially skin-to-skin. M's birth was going to be the first Cesarean birth of this type at UNM hospital.
M spent a lot of time talking with her provider about her preferences, through many months of prenatal appointments. He was on board the whole time and went out of his way to meet her requests, as he understood how important they were to her. This new kind of Cesarean birth required planning and coordination from a whole team of medical professionals, from the obstetric team to anesthesia, nursing, and NICU. M knew what she wanted and was willing to speak up to get it—not only for herself, but for future families. She was hopeful that if her birth set a precedent for a successful family-centered Cesarean, more women would have the option for this kind of birth, whether they were having a repeat surgical birth or were having their first.
When she hired me as her doula, I was really excited about the prospect of supporting M—especially because this was a new way to approach Cesarean birth. I'd never doula-ed for a planned Cesarean before and I'd never been in the OR for a Cesarean birth, either. I went to a prenatal appointment with M and her family, met her doctor, and started to prepare myself. Just like I would with any other doula client, I had two prenatal appointments with M and her husband. We also added a bellycasting session and one additional meeting the day before the planned birth. We talked quite a bit about M's previous births and her feelings and experiences about them (as well as those of her husband).
On the day of the birth, M was strong and excited, but a little nervous. I joined her and her husband, J, in the OR prep/recovery area as M prepared for birth. My role wasn't any different from any other birth I attend: to provide mental, emotional and physical support to M and J and help create a positive experience on the day they met their baby. I took out my massage tools and rubbed M's back a little bit as the nurses struggled to put in an IV line.
Overall, the mood was high. I could tell that a lot of prep went on behind the scenes to ensure that M could have this birth, and the medical staff seemed interested and ready to meet the challenge. The two physicians who would perform the surgical birth were upbeat and the anesthesiologist was incredibly kind. M and J went back to get the epidural and I nervously waited to be called back into the OR.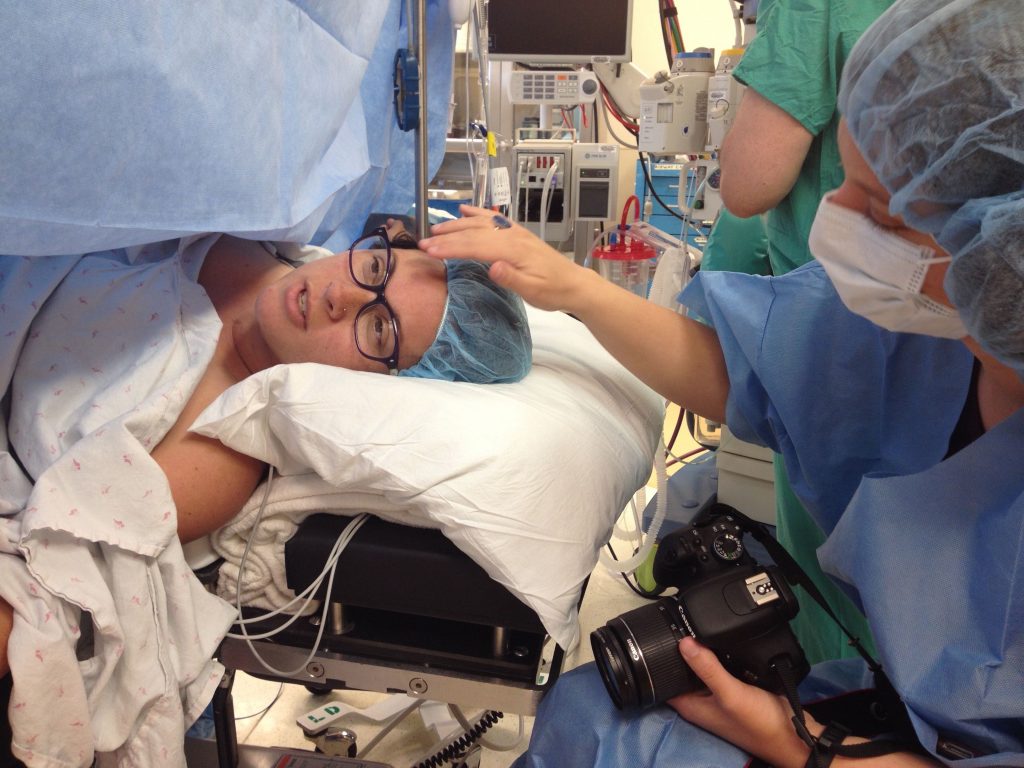 Finally, a nurse came to get me and I went back to the OR, then took my seat by M's head. The birth started—M, J and I chatted lightly with the anesthesiologist, and M spoke with her doctor a bit, too. When the baby was about to come out, her doctor lowered the drape. In awe, we all watched the baby's head emerge. M and J decided not to find out the sex of the baby (the same as they'd done with their other children), so when we saw he was a boy, it was a big surprise! Baby R fully emerged from the womb and was held up for delayed cord clamping. Then M reached for her baby and brought him to her chest, herself.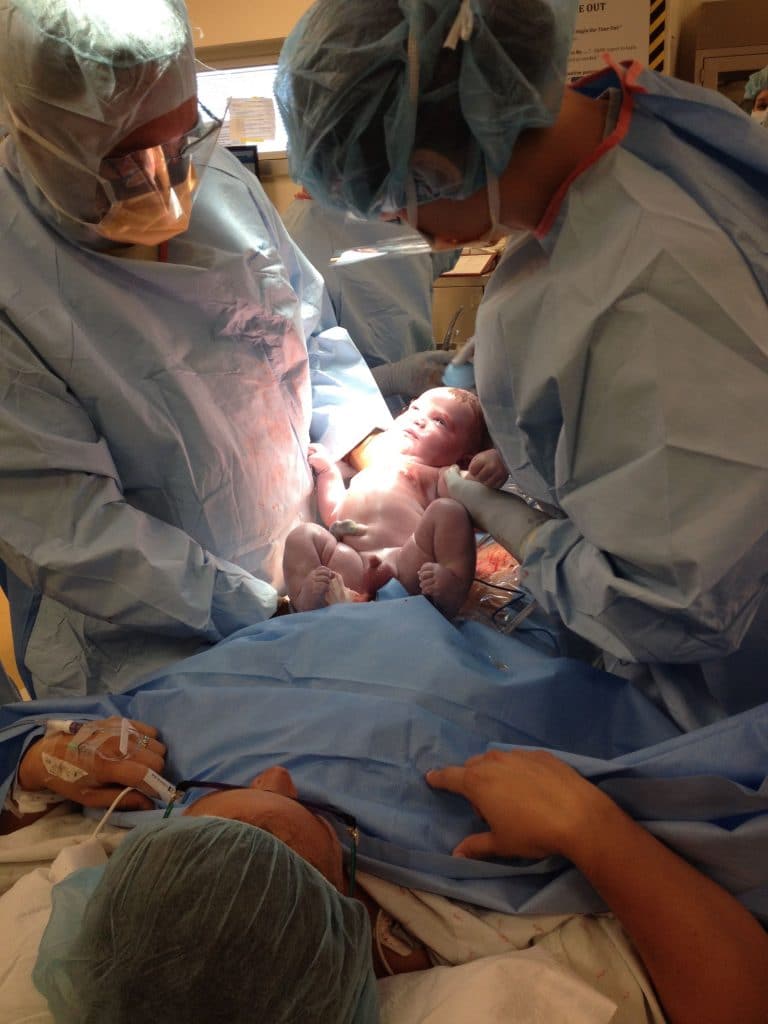 R came directly skin-to-skin with his mother. It was an incredibly happy and joyous moment.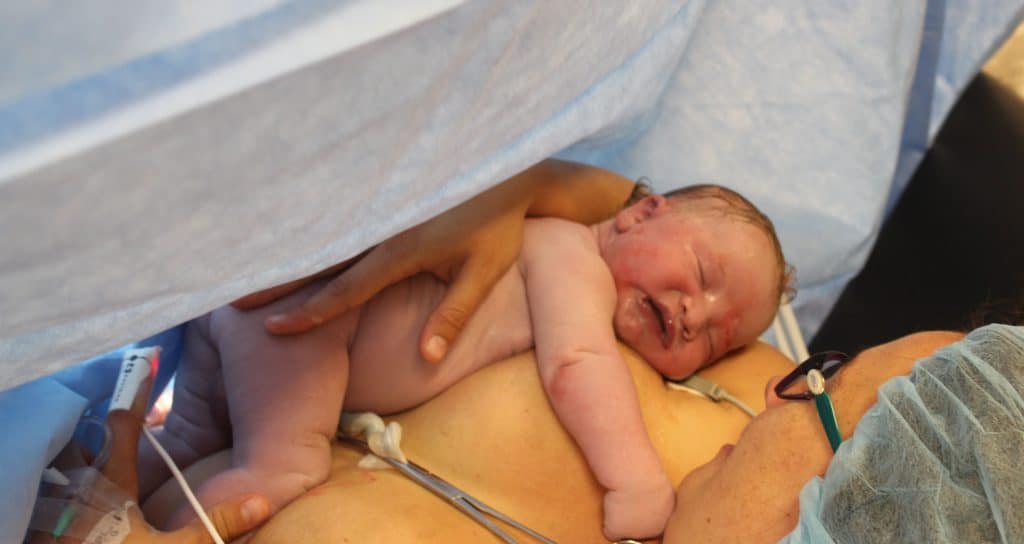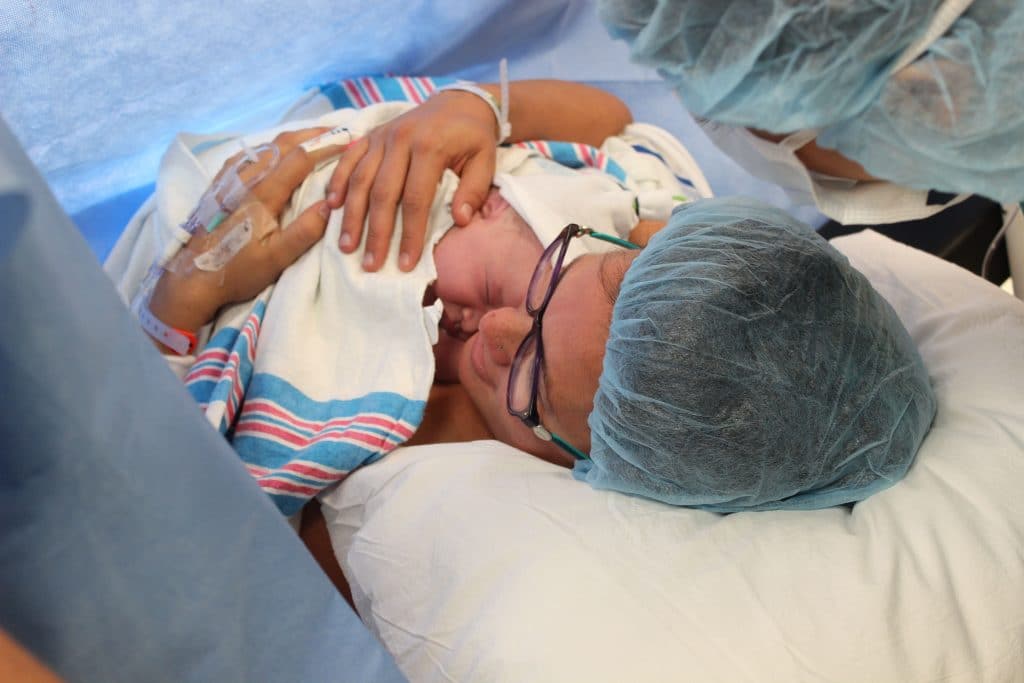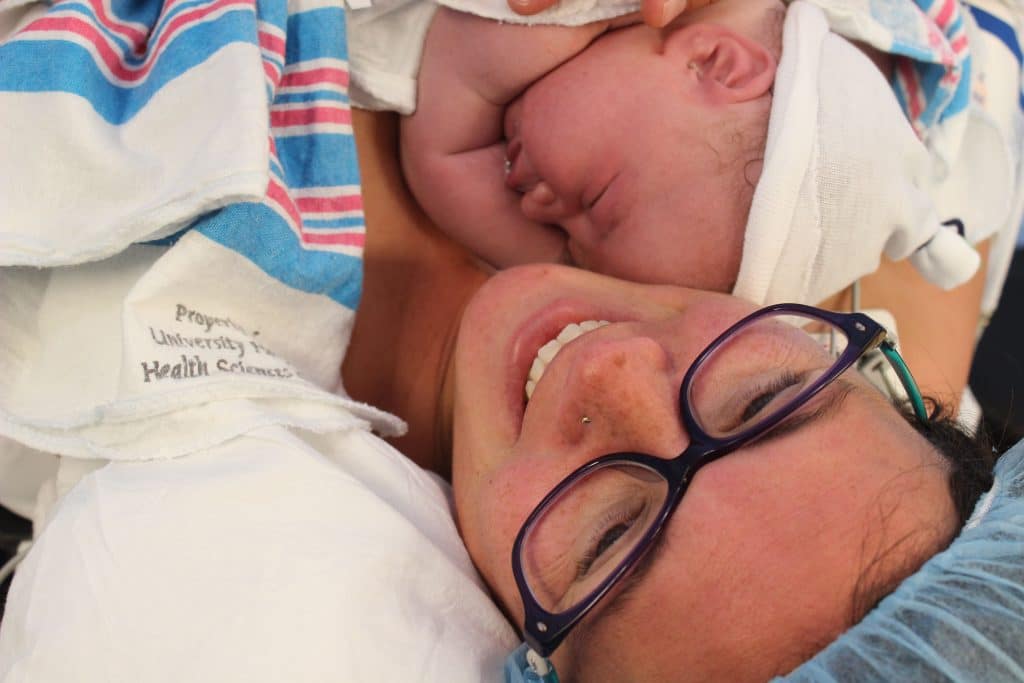 After a good ten or more minutes of skin-to-skin cuddling with his mother, the nurse determined that baby R needed a little breathing support and should head to the intermediate nursery for observation. J went with R, while I stayed with M in the OR. M and I chatted with her medical team until the surgery was over. She was overjoyed that things had gone well, that everything she'd hoped for her birth had come to pass. Within a few hours, baby R was reunited with his mom.
For me, M's birth is a true and inspiring example of how, with creativity, evidence, advocacy, and planning, parents and birth care teams can create important change together, change that ensures the opportunity for respectful and meaningful Cesarean births. Since M's birth, elements of family-centered Cesareans are becoming much more common—at UNM and other hospitals in Albuquerque, as well as around the country. The options that M wanted for her birth aren't always possible (depending on the clinical situation for mother or baby, especially in an emergent situation), but skin-to-skin in the OR, in particular, is more and more available to parents, as well as the presence of a doula or second support person in the room. Families anticipating planned Cesareans have increasing options for their baby's birthday—everything from choosing the music in the OR to having a clear surgical drape so parents can watch the full birth.
Since her son's birth, M's provided advice to other parents on how to advocate for family-centered Cesarean births. Personally, I've since doula-ed another family through a beautiful, family-centered Cesarean at UNMH.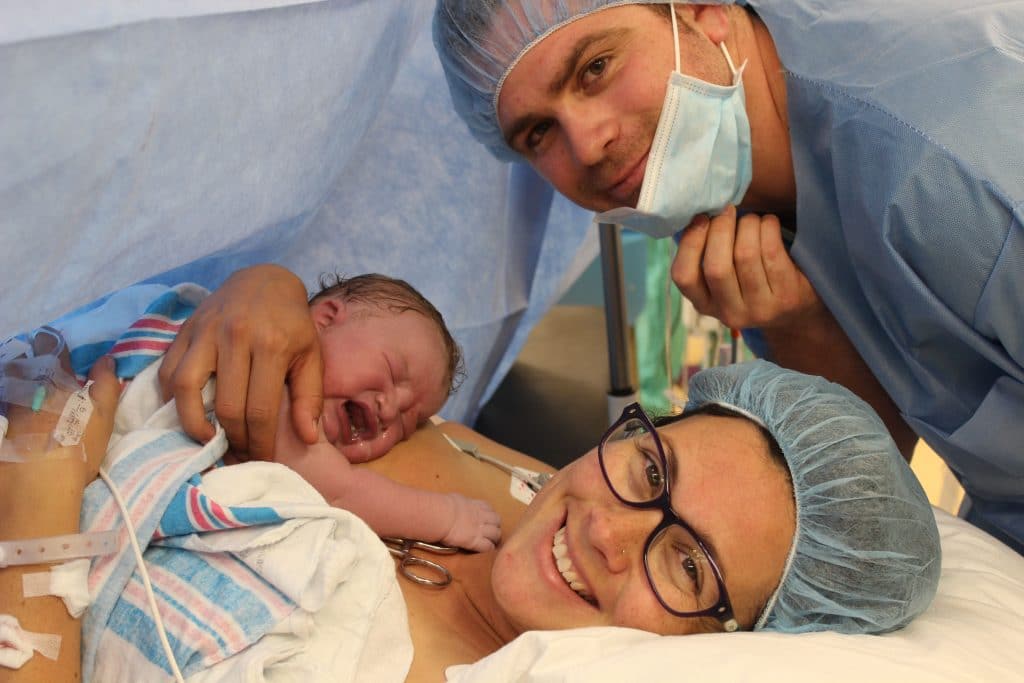 M and I are now good friends. It's hard for me to believe it's been two years since I witnessed her strength and joy as she birthed R. Each time I see R, I'm reminded of what an honor it was to be present as he was welcomed into a room full of cooperation, respect, and love.
All photos here courtesy of M and taken by me or her husband, J