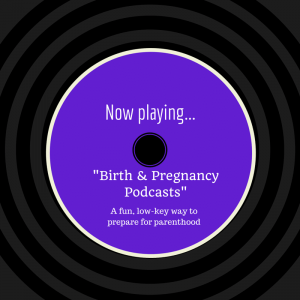 I've never really been much of a podcast person. I guess I often feel like if I'm going to listen to something, I want it to be music. But recently, I (like almost everyone else I know) got sucked into the super addictive Serial podcast, which led me to be a little more open-minded about podcasts in general. Because, hey, they're actually interesting, fun, and useful! So, what other kinds of podcasts did I explore? Birth ones…of course! 🙂
Here's a list of birth-y podcasts that are great for expectant families looking for another way to learn about pregnancy, birth and new parenting. Pop one of these in your headphones during a long walk, while cooking dinner or cleaning up your living room. It's fun and a lot easier than doing yet another Google search or cracking open a 300 pg childbirth book.
Birthful: This awesome series is helmed by Adriana Lozada, a doula and sleep consultant in upstate New York. She has a different distinguished guest talking about a different topic each week. With information on everything from safe bed sharing to laid-back breastfeeding to pregnancy nutrition to what your baby actually experiences during the birth process, it's an amazing source of low-pressure information for families. I especially like the episodes on laid-back breastfeeding and birth intuition.
Pea in the Podcast: Pea in the Podcast has an episode for every week of your pregnancy, up to 40 weeks. It was founded in 2006, so it's been providing information to parents for almost ten years! Cesareans, bottle feeding, cord blood banking, sex in pregnancy, single moms…the range of topics covered by this podcast is very broad. You are sure to find something that interests you!
Easier Healthier Birth: It looks like this podcast has stopped running, but there are plenty of back episodes for you to check out. I like the one called "Should You Use A Doula?" 😉
Birth, Baby and Life: This podcast is extensive, as well, with more of a slant on parenting topics, like diapering, soothing fussy babies, baby's first foods and more. You can't go wrong with an episode called "Your Awesome, Flexible Pelvis," either!