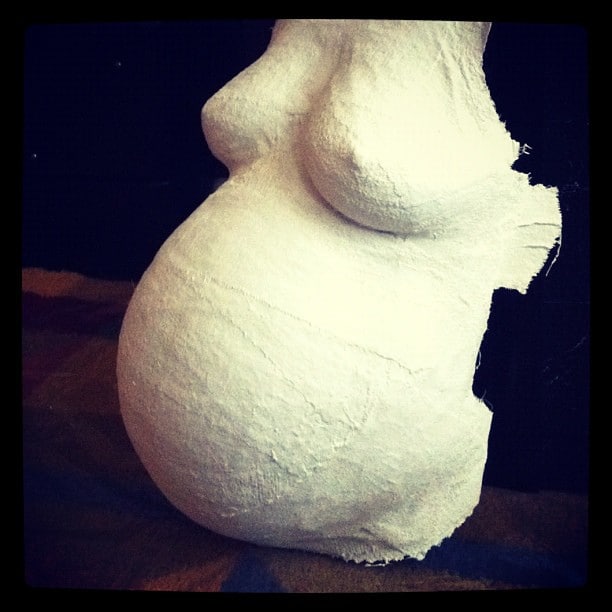 NOTE: As of June 2017, bellycasting services are currently only available for clients who have already booked doula services.
Having a belly cast made is a fun, creative way to preserve and remember your pregnant body.  Basically, a belly cast is a plaster mold of a pregnant belly. It's a beautiful, tangible and long-lasting reminder of your pregnancy and what it was like to carry your baby.
When your cast is finished, you can paint it, decorate it, glitter-ize it, have attendees at your baby shower sign it, take photos of your baby inside once he or she arrives, hang it on your wall…the possibilities are endless. It's also fun to have an older child help you decorate it, or even wait until your baby is older to help paint and decorate with you.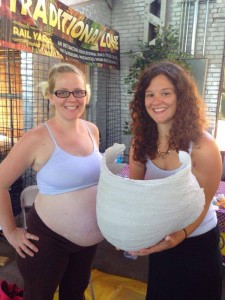 My bellycasting service includes setup, cleanup, all supplies and materials, and the finished belly cast. It takes about an hour from start to finish.  The best part? You don't have to do anything but sit back and relax—no sweeping up sticky bits of plaster or bumbling through the instructions on a casting kit you got at Babies'R'Us.  
To cast bellies, I use nontoxic plaster gauze in the comfort and privacy of your own home. I recommend doing the belly cast anywhere from 34-40 weeks (with 36-38 weeks as a sweet spot) but it can be done any time throughout your pregnancy. Older children are welcome to be present and participate in the process!
The fee for bellycasting is $85.  If you would like me to sand and finish the cast (requiring additional time and additional trips), an extra fee of $25 is added. 
If you're interested in making a belly cast, email me at carriemurphydoula@gmail.com.
Photo: Flickr user alon